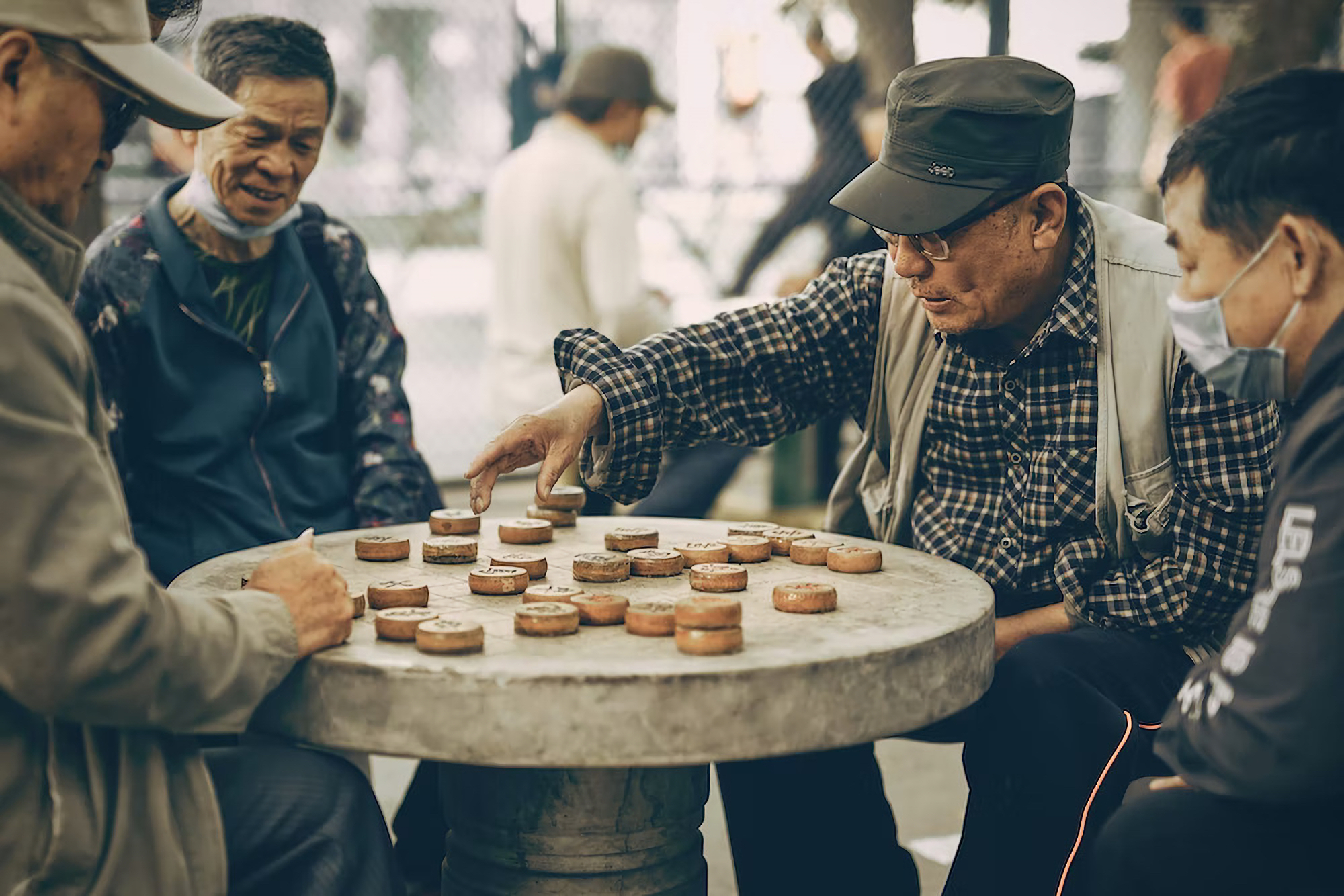 March 2, 2023 | Stefania Jiang, Associate, Bridge Consulting
Vaccinating the elderly has been a key factor in ensuring protection against fatality during COVID-19. However, the experience of it in China has been one of ups and downs as vaccine hesitancy and a slew of social issues have greatly affected uptake. But ultimately, this experience has also paved the way for continued conversations on elderly vaccination for other diseases.
Across 2022, COVID-19 vaccination rates for the elderly in China were deceptively low, with only 40 percent over 80 years old having received the recommended three shots of a Chinese inactivated vaccine. This made them East Asia's least vaccinated when compared with Japan (93 percent), South Korea (85.5 percent), Taiwan (69.9 percent, for those aged 75+) and Hong Kong (61.5 percent). More concerningly, this issue was forecasted to lead to over a million deaths by year's end according to several models by Airfinity, Nature, The Economist and The New York Times.
Even as an incoming COVID-19 outbreak became apparent in early December 2022, China continued making its move away from the strict dynamic zero-COVID strategy, introducing new measures to optimize epidemic prevention and control. Among this, boosting the vaccination drive for elderly became a top priority. Local media reports indicated that internally, the central government was putting pressure on local governments to get 90 percent of those over 80 years old fully vaccinated with a booster by the end of January 2023. But practically speaking, this task faced significant – and unforeseen – obstacles.
Vaccine hesitancy among the elderly during COVID-19
Vaccine hesitancy has been a serious obstacle for vaccination uptake among the elderly in China. Firstly, a lack of inclusion of the elderly in the vaccine clinical trials contributed to unclear vaccination guidelines for the elderly early on in the pandemic. Unlike a number of Western countries where they were viewed as priority groups, China only included the 60+ population from April 2021, months after first rollout of vaccines in December 2020, in favor of vaccinating groups with higher mobility and transmission risks. Uncertainty over side effects also warned elderly people with stable chronic conditions to delay or avoid the shot all together. In the rollout, poor logistics also played a role in low uptake, with many elderly people being hard to reach through the typical systematic outreach (e.g., vaccination through schools or place of employment), and eventually left outside of these mainstream campaigns.
Secondly, a knowledge gap existed for most elderly in China who prior to the pandemic, were unfamiliar with vaccines for adults, which have generally been self-paid. This has meant adult family members or guardians with their own views had a strong influence on their use of vaccines: often times acting as the elders' health decision-makers, they projected their own vaccination hesitancy onto the elders. Moreover, low COVID-19 mortality rates achieved due to the zero-COVID policy gave the elderly an impression of a low risk of exposure to COVID-19.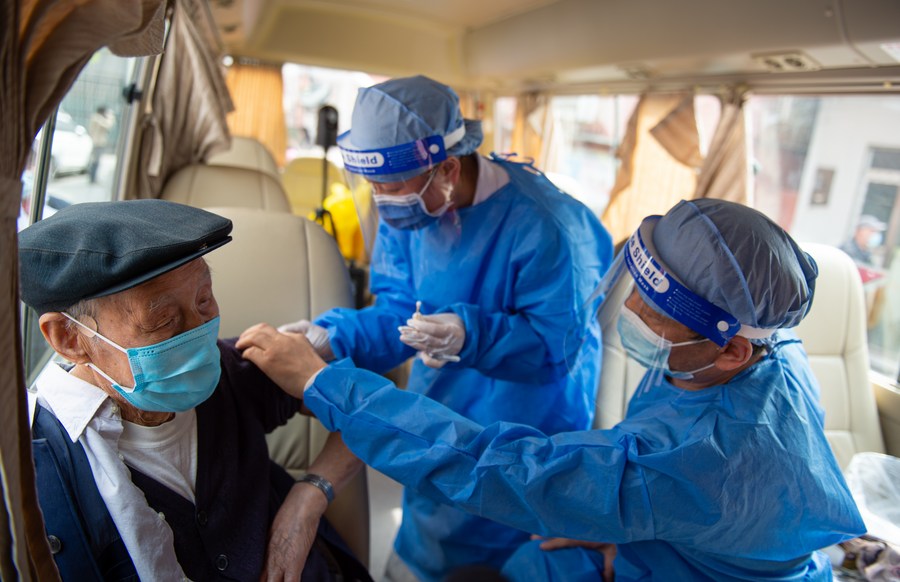 Elder getting a dose of COVID-19 vaccine at a mobile COVID-19 vaccination site in Beijing | Source: Xinhua
Renewed elderly vaccination efforts with the Ten Measures
On November 29, after efforts were made to adjust the strictness of zero-COVID, elderly vaccination and a number of these hesitancy issues were finally addressed with the National Health Commission (NHC) unveiling new measures to boost vaccination rates among seniors:
The length of time between vaccination was shortened from six to three months.
To widen outreach, authorities could now vaccinate at key sites (e.g., nursing homes, elderly fitness and entertainment venues, as well as in large-scale activities, and group tours).
To reduce possibility of adverse reactions in people with underlying conditions, medical personnel were provided scientific instructions, and more on-site and post-vaccination observation services were to be offered for the disabled and semi-disabled elderly.
Finally, to educate the elderly and their families, there would be improved communication and publicity on the efficacy of vaccines via official media and experts' lectures.
In mid-December, the renewed campaign become noticeable as state media outlets started publishing statistics, infographics, videos and stories en masse to reinvigorate vaccination. There was news of nursing homes organizing buses to transport the elderly, and grassroots workers offering door-to-door vaccinations. Still, a continued emphasis on other preventative measures such as masking, maintaining indoor airflow, social distancing and more signalled that vaccination was not a given.
Fast forward to uneven results despite a strong-willed push
Firstly, the vaccination drive occurred amidst the ongoing outbreak. The rapid spread of COVID-19 in December meant a shortage of medical staff to manually administer shots. It also meant that many elderlies were inevitably infected too as of mid-January, since infection rate estimates might have reached as high as 80 percent of the population (1.13 billion people) according to CDC official Wu Zunyou, thus interrupting booster uptake. While four new vaccines were approved in December, their rollout has been incremental, limited to particular regions, and with some like Clover Biopharma's protein vaccine available only since February.
Secondly, as of late January 2023, evidence suggests that results have varied greatly from province to province. Both Beijing and Shanghai – with arguably more medical personnel, resources and facilities than average – have not yet reported anything on achieving the purported 90 percent rate goal. Elsewhere, Henan and Shandong provinces have openly reported achieving these goals, while others like Zhejiang have only reported on their provincial goals of vaccinating 80 percent of elders in nursing homes by January 15. To date, no clear figures for the national cumulative vaccination rates of the elderly aged over 80 years old have been communicated publicly.
Elderly vaccination for other infectious diseases entering the conversation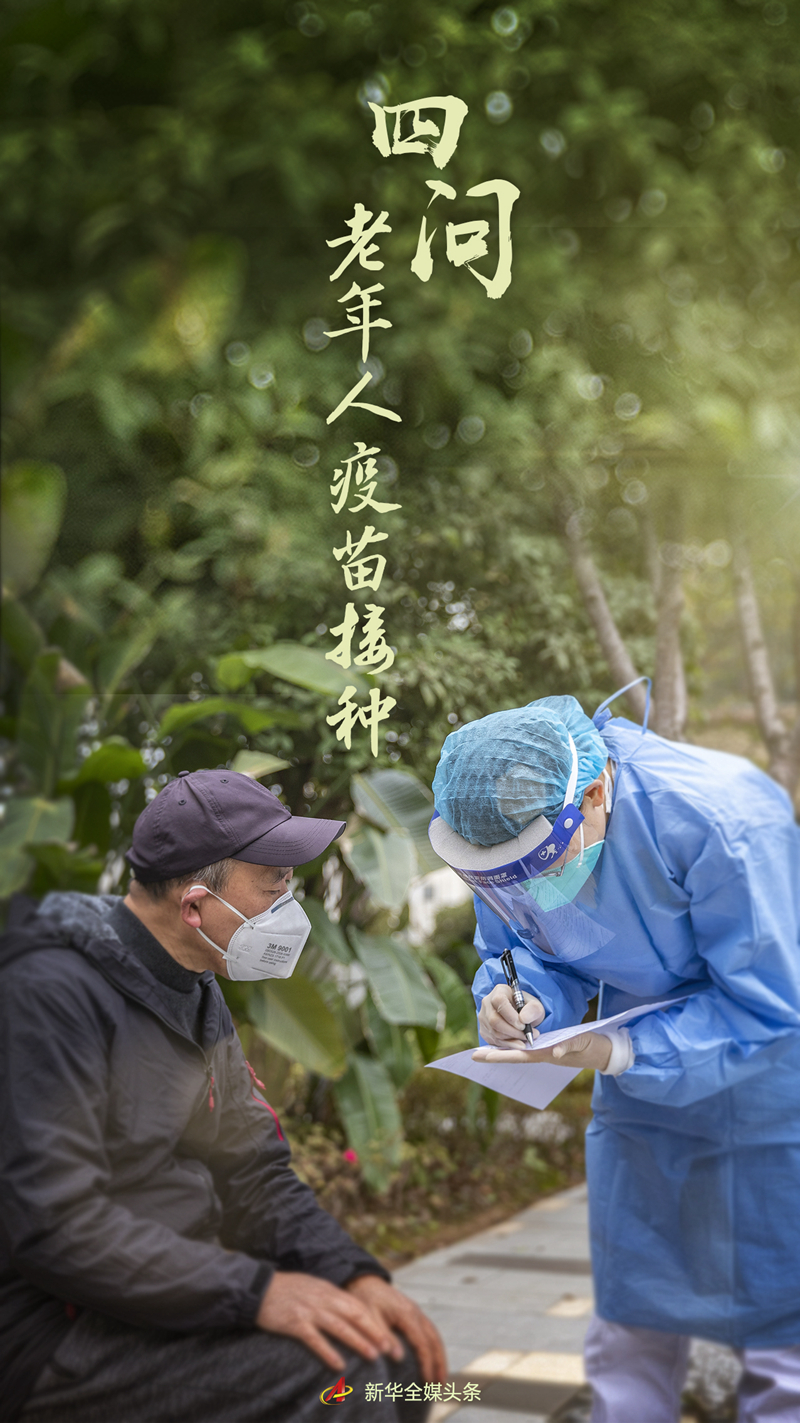 "Four Questions about Vaccination for the Elderly — An Investigation Report from the Frontline of Epidemic Prevention and Control" | Source: Xinhua
But perhaps a more optimistic consequence of this emphasis on vaccination for COVID-19 has been the opening of a conversation on elderly vaccination for other infectious diseases.
As one of the world's fastest ageing societies today, more than 264 million Chinese residents are aged 60 or over, infectious diseases can still be a threat to the elderly due to low vaccination rates. In 2021-2022, only 21.7 percent of people aged over 60 were vaccinated for influenza in China – extremely low compared with past vaccination rates in OECD countries: England (81 percent) on the high end or even Germany (38.8 percent) on the low end. For pneumococcal vaccination, only 21.7 percent of adults, in general, were vaccinated, and for shingles, an estimated 3 million Chinese adults are affected each year, with a vaccination rate of only 0.3 percent.
While COVID-19 has not completely changed everything, the experience of a nationwide vaccine drive has provided awareness to adult vaccination, given all the manpower, time and money invested. Provinces like Guangzhou have started free influenza vaccination programs for the elderly since the beginning of the pandemic, and are now launching free pneumococcal vaccinations. Locally, a Beijing China CDC official spoke about their recommendations for elders to prioritize four vaccines: COVID-19, flu, pneumococcal and shingles.
The development of homegrown vaccines has also helped. On January 31, the National Medical Products Administration announced that BCHT Biotechnology's live attenuated shingles vaccine for those over 40 years old was approved for market use. Compared to the imported GSK's Shingrix, the new domestic competitor only requires one shot, and is reportedly cheaper.
Implications for the future
While the three years of the pandemic have showcased the struggles with vaccinating the elderly, more importantly, they have brought valuable lessons on how to anticipate such issues for adult vaccination beyond COVID-19.
One of the primary concerns is to address vaccine hesitancy. This can be done by considering them at every stage of a vaccination campaign: incorporating them into clinical trials so that manufacturers can guarantee the safety and efficacy of the vaccines; incorporating their caregivers and children into communication strategies so they can be positively influenced, and incorporating their accessibility into outreach campaigns.
At the same time, COVID-19 has shown that there is a demonstrated drive to protect the elderly. Whether through systematic and inclusive outreaches, the launching of free vaccination programs or new domestic vaccines targeted at adults, COVID-19 has opened a window of opportunity for the better. And as China transitions further into an ageing society, the need for the handling of infectious diseases affecting the elderly population will grow greater.
Stefania Jiang
Stefania Jiang is an Associate at Bridge Consulting. With a background in International Relations, she aspires to connect China and the world through cross-cultural communication, digital storytelling and knowledge sharing. Find Stefania on LinkedIn.