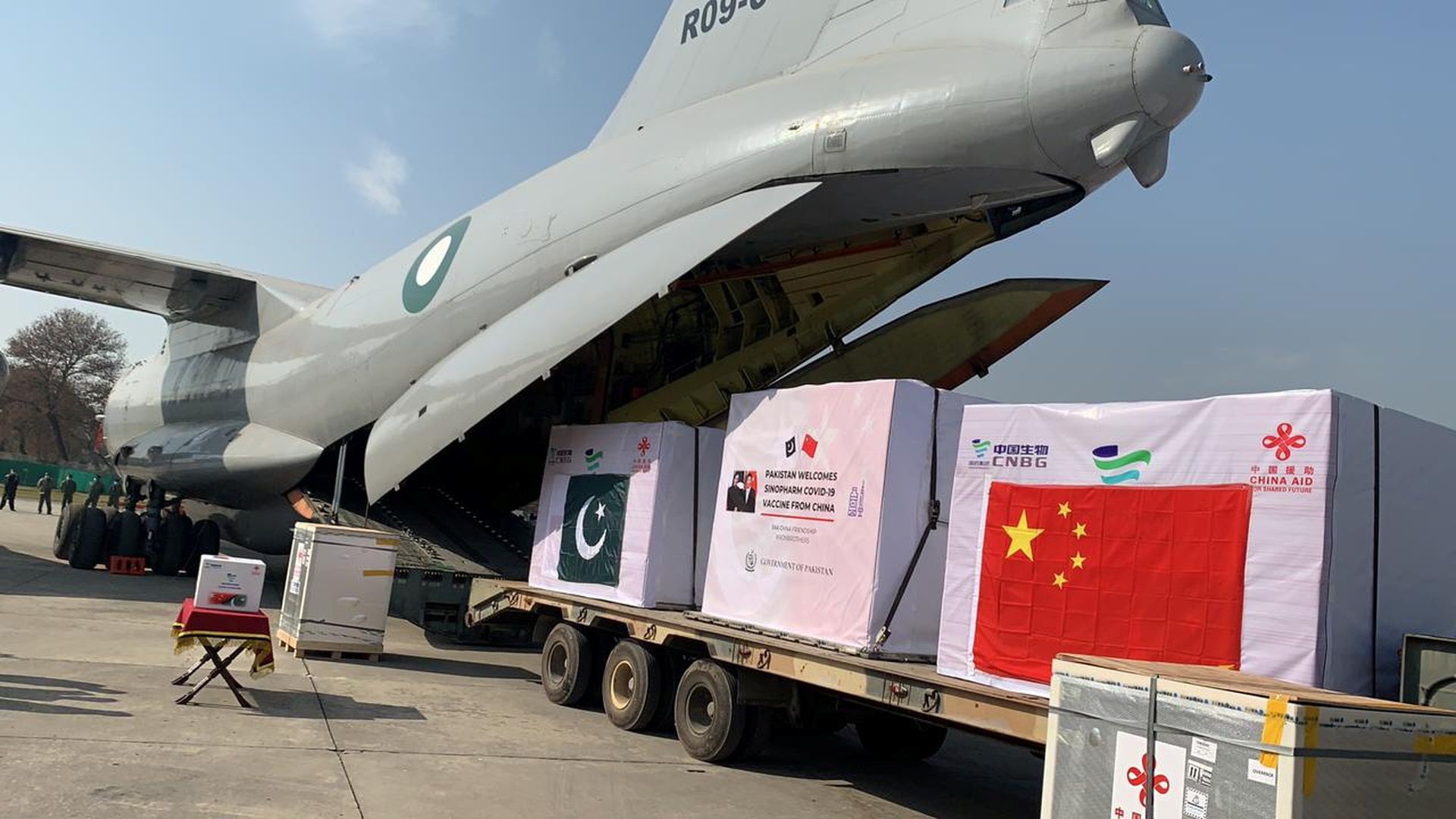 February 10, 2020 | By Zixiang (George) Zhou, Associate; Marisa Lim, 2021 Spring Intern; and Xiaomin Zhang, 2020 Fall Intern, Bridge Consulting
China appears to be fulfilling its promise to make its COVID-19 vaccines a global public good through multilateral and bilateral approaches. Most recently, Beijing announced that it will provide 10 million doses of its COVID-19 vaccines to COVAX.
Chinese biotech Clover Biopharmaceuticals with help from CEPI published positive phase 1 clinical trial data, and initiated phase 2/3 trial of its protein-based adjuvanted COVID-19 vaccine candidate.
Chinese drugmakers Sinopharm and Sinovac continue to expand their COVID-19 vaccine production capacity while China is exporting and donating its vaccines to other countries, though public skepticism towards the efficacy and safety of their vaccines abound.
Since our last article on China's participation in the COVAX Facility, we have seen some progress. China has indeed been working to fulfill its promise to make its COVID-19 vaccines a global public good through multilateral and bilateral approaches, but uncertainties and problems remain. Our team identified recent developments with regard to the China's participation in COVAX and the distribution of Chinese COVID-19 vaccines globally through other channels, and offer our insights.
Fulfilling its Promise to Make its COVID-19 Vaccine a Global Public Good: Stepping up Multilateral Efforts
I. Working through the Global COVAX Facility
On February 3, the China's Ministry of Foreign Affairs (MFA) announced that China will provide 10 million doses of its COVID-19 vaccines to the global vaccine sharing scheme, the COVAX Facility. When explaining China's decision, the MFA spokesperson stated that China places great importance on the WHO Director-General Dr. Tedros Adhanom Ghebreyesus' January 15 call on all nations to begin vaccination for priority groups within 100 days as well as the difficulties faced by COVAX, particularly the acute shortage of COVID-19 vaccines available between February and March.
Previously the Chinese government disclosed that Chinese vaccine developers including Sinopharm, Sinovac and CanSino have submitted applications to supply their COVID-19 vaccines COVAX. WHO documents show it could make the decisions on Emergency Use Listing/Prequalification (EUL/PQ) applications by Sinopharm's BBIBP-CorV and Sinovac's Coronavac at earliest March. On February 5, WHO official stated that the WHO is "at a very advanced stage" in its evaluation of applications from Sinopharm and Sinovac, and a team of WHO inspectors is in China for the onsite inspections.
Bridge Commentary: It is worth noting that China has not disclosed whether these vaccines would be donated or sold to COVAX, what the price would be, or what the delivery schedule looks like, mentioning only that the decision was made because of an acute shortage of vaccines with COVAX between February and March. COVAX currently aims to distribute 336 million doses of the AstraZeneca-Oxford vaccine for the first and second quarter of 2021, as well as 1.2 million doses of the Pfizer-BioNTech vaccine for the first quarter of 2021. It is possible that China would provide the vaccines within this period of time to help alleviate this shortage.
It is also unclear which Chinese vaccine(s) will be provided to COVAX. All vaccines procured and distributed by COVAX must receive prequalification granted by the WHO. Applications by Sinopharm and Sinovac for the WHO EUL/PQ show their confidence in the safety and efficacy of their COVID-19 vaccines as well as their production facilities. Both Sinopharm and Sinovac have successfully obtained WHO prequalification for their vaccines before.
Further uncertainties lie ahead. Some still question the safety and efficacy of Chinese COVID-19 vaccines, though a stamp of approval from the WHO will certainly clear regulatory hurdles and help boost the public confidence in Chinese vaccines. Given the shortage of vaccines available for developing countries, more work is needed to accelerate the process of getting Chinese COVID-19 vaccines pre-qualified so they can be procured to fill the gap. In the meantime, transparency and a sound communication strategy from China and its vaccine developers are still needed to win the trust of those who remain skeptical of Chinese COVID-19 vaccines.
II. Working with International R&D Partners
On February 1, China's Clover Biopharmaceuticals published the phase 1 clinical trial data for its adjuvanted protein-based S-Trimer COVID-19 vaccine candidates in the Lancet, which "demonstrated favorable safety and tolerability profiles and strong neutralizing immune responses". Clover's vaccine candidate is one of the nine COVID-19 vaccines currently in CEPI's portfolio, and CEPI has invested USD 328 million in Clover's COVID-19 vaccine R&D.
Clover also announced on the same day that it plans to initiate a global Phase 2/3 trial of its COVID-19 vaccine candidate adjuvanted with Dynavax's CpG 1018. Clover stated that it decided to continue the trial using the Dynavax adjuvant after taking into account "scale-up manufacturing considerations." Dynavax's CpG 1019 adjuvant, an adjuvant used in an adult hepatitis B vaccine approved by the U.S. Food and Drug Administration, has an estimated production capacity of 600 million to 1.2 billion doses annually upon completion of on-going scale-up activities. CEPI's CEO Dr. Richard Hatchett added that Clover's vaccine candidate has "the potential to be manufactured at scale and stored in a regular refrigerator which makes it suitable for use around the globe, including in low-resource settings" and that COVAX hopes to procure hundreds of millions of doses of Clover's vaccine if this is proven to be safe and effective.
Bridge Commentary: Unlike Sinopharm and Sinovac, Clover started its COVID-19 vaccine R&D as an international partnership with CEPI, which means COVAX can directly procure its vaccines. Clover's COVID-19 vaccine candidate continues to make progress and is already making adjustments based on scale-up manufacturing considerations, which is encouraging news for COVAX in the face of ongoing difficulties securing enough safe and effective vaccines. Given the preliminary report about the AstraZeneca-Oxford vaccine offering much less protection against the B.1.351 variant spreading in many countries, it is crucial and prudent to ensure the availability of different COVID-19 vaccines, which is exactly why CEPI and COVAX invested in a diverse COVID-19 vaccine portfolio. Clover's vaccine candidate gives COVAX one more option in vaccine procurement.
Fulfilling its Promise to Make its COVID-19 Vaccine a Global Public Good: Bilateral Moves
As of January 2021, a total of 18 Chinese companies have started building COVID-19 vaccine production facilities. China's three main producers – Sinopharm's Beijing and Wuhan subsidiaries as well as Sinovac – are expected to produce up two billion doses of their vaccines per year. Another leading Chinese vaccine developer CanSino estimated it can produce 100 to 200 million doses of its single-dose vaccine. Another Chinese company Shenzhen Kangtai Biological Products Co. Ltd. recently completed its production facility which is expected to produce 400 million doses of AstraZeneca's COVID-19 vaccine per year in China.
I. Donating Chinese Vaccines
China has also started donating its COVID-19 vaccines to various developing countries that have struggled to obtain enough doses for mass inoculation. Foreign Ministry spokesperson Wang Wenbin noted on February 8 that China is providing vaccine aid to 53 developing countries.
II. Exporting Chinese Vaccines
Vaccines made by Sinopharm and Sinovac have been exported to many developing countries. The Chinese government has stated repeatedly that it supports relevant Chinese companies in exporting vaccines to countries in urgent need that have authorized the use of Chinese vaccines. Some countries have already started administering Chinese vaccines. Most notably, Indonesia declared that about 1.48 millions of its health workers will be the first to receive the Sinovac vaccine, with its President Joko Widodo kicking off the campaign in a nationally televised ceremony. Other countries include Turkey, Egypt, and Serbia.
III. Building Foreign Capacity to Produce Chinese Vaccines
China is also helping to set up production facilities in other countries to manufacture its COVID-19 vaccines. Brazil's Butantan Biomedical Center has received ingredients from Sinovac to allow local production of 8.6 million doses. A new Butantan facility under construction is also being built to produce the vaccine's active ingredients beginning in January 2022. Indonesia is supported by China to become a vaccine production hub in Southeast Asia, with state-run enterprise Bio Farma as Sinovac's local partner. After an agreement with the Chinese government, Egypt is also preparing to become a manufacturing hub of Chinese COVID-19 vaccines for Africa, with its state-owned VACSERA setting up production lines to begin production. In addition, Mexico has been promised 8 million doses by March, to be finished and bottled in a domestic plant.
Bridge Commentary: Chinese COVID-19 vaccine developers expanding their production capacity is great news, but the vaccine developers will need to make sure the fast expansion of their vaccine production capacity will not impact the quality of vaccines produced.
It is also indeed encouraging to see China exporting and donating its COVID-19 vaccines to other countries with an urgent need for vaccines. Helping countries set up COVID-19 vaccine production facilities can also help resolve certain vaccine supply and logistical constraints facing developing countries and regions.
Nonetheless, China's exports and donations of its COVID-19 vaccines have received mixed reception around the world. Some have praised China's largesse, while others are worried that China may use its COVID-19 vaccine as leverage to advance its political and economic interests. Many remain wary of its safety and efficacy. There has also been very limited information about how the recipient countries' regulatory agencies handle the vaccines donated by China. China and its vaccine developers will do well to address these concerns, starting by sharing more information about the efficacy and safety of their vaccines in a scientific and transparent manner.
Zixiang (George) Zhou is an experienced international relations and development professional who has worked in Washington DC, Nairobi, and Beijing. Find George on LinkedIn.
Marisa Lim is an aspiring trailblazer majoring in Biomedical Engineering with a specialisation in Robotics. Passionate about healthcare equity and social causes, she is currently interning at Bridge Consulting. Find Marisa on LinkedIn.
Xiaomin Zhang is a budding changemaker, committed to promoting social equity. She is passionate about improving the living status of vulnerable groups, and just completed a Fall internship with Bridge Consulting in 2020.