October 15, 2021 | By Christine Ow, Junior Consultant; Marisa Lim, Junior Consultant; Zoe Leung, Junior Associate, Bridge Consulting
In tribute to World Mental Health Day 2021 this past October 10th, let's talk about mental health in China. This year's theme was focused on "Mental health care for all: let's make it a reality."
In China, historically, mental health has existed mainly on the fringes of public conversation. The stigmatization and marginalization of mental health problems, as well as the subconscious neglect and shame to talk about these problems, are all the difficulties people facing in the field of mental health in China.
Stigma. In a previous article, we discussed how public misconceptions and stigma had prevented many Chinese from seeking mental health treatment for so long. Studies have shown that for Chinese and other Asians, stigma impacts treatment-seeking behaviour much more than for Europeans, leading to lower rates of treatment in Chinese communities.
Neglect. The social neglect of people's mental health difficulties has also been a problem in China. People often think that mental health is not an issue related to their lives. Even when they realize they may have some psychological problems, most of them will adopt the attitude of avoidance, evasion, or rejection.
Impact of COVID-19. In the early days of the pandemic, when cities were put under strict lockdown, Chinese citizens, frontline health workers, and patients themselves started experiencing heightened levels of depression and other mental health symptoms. Fortunately, the authorities responded very positively, investing heavily in making mental health resources more accessible. Local governments helped in establishing 24-hour hotlines in Wuhan and opening more counselling centres for students who might have a hard time processing the volatility of the pandemic. This helped facilitate the nationwide conversation on mental health, dismissing the old stigmas that once made it so hard, and helped put a new spotlight on mental health influencers.
In recent years, the rise of social media has opened up spaces for many influencers – Key Opinion Leaders (KOLs) – in China to not only drive forward the conversation but offer real solutions and treatments for people who seek them. In this article, we look into three influencers in China who have helped lead this conversation and brought about a change in people's stigma towards mental health and access to mental health services. They are Jian Lili, Wu Zhihong, and KnowYourself.
An Entrepreneur's Perspective: Jian Lili (简里里)
Founder and CEO of MyTherapist(简单心理) app and member of the Young Professional Psychological Counselor Committee of China Mental Health Association. Weibo: 1 million followers.
As one of the most entrepreneurial mental health influencers on Weibo, Jian has successfully used different social media platforms to promote mental health, pioneering the development of an accessible, online psychotherapy industry in China.
Jian received a master's degree in neuropsychology from University College London, after which she returned to China and became a professor in psychology at a university in Beijing. During this period, she realized there was little support for students trying to become certified, practicing counselors in China, resulting in few trained counsellors engaging in the industry.
Furthermore, her start on Douban, a discussion-based social media platform, exposed her to people's numerous unmet queries for psychological counseling. With this motivation to bridge the gap between counselors and individuals nationwide, Jian established MyTherapist (简单心理) in 2014, China's first mobile platform for psychological counseling.
As one of the top mental health online platforms in the country, My Therapist is facilitated by a mobile app where users can learn about mental health through podcasts, online classes, and educational resources and access a free hotline service for on-demand counseling book sessions with professional psychiatrists. On Weibo alone, the platform has garnered over 110,000 followers, and Jian herself was voted one of China's 2019 Most Innovative People in Business.
When it comes to her personal Weibo account, Jian harnesses the dynamic and viral nature of the social media platform to bring mental health resources to her following community.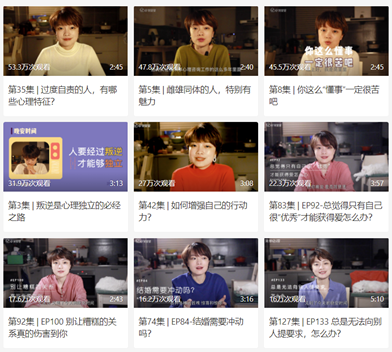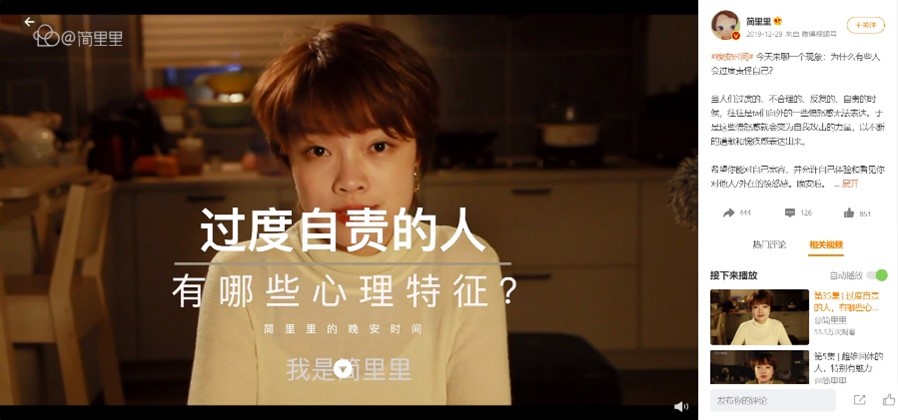 Adding a personal touch. Speaking from her bedroom, Jian breaks down a variety of mental health topics for her followers in short weekly videos under her "Bedtime Talk" (晚安时间) series. Her most popular videos are on topics inspired by her followers' personal experiences, including relationship troubles and gender issues.
Giving bite-sized information. As a fast-paced and dynamic social media platform akin to Twitter, things on Weibo go viral very fast. Taking advantage of Weibo's unique viral characteristic, Jian keeps her videos short and snappy, with hardly any longer than 4 minutes, to provide her followers with bite-sized information that can quickly go viral.
Popular posts
Bedtime Talk: Going cold in your relationship

Inspired by a personal experience written in a letter to her by a follower, Jian talks about the reasons people go cold on their partners in relationships and how to deal with it.

Bedtime Talk: Why do people blame themselves?

Based on a common situation many people find themselves in either at work or in school, Jian talks about why people often blame themselves and how to overcome this personal hurdle.
A Professional's Perspective: Wu Zhihong (武志红)
Renowned author, trained psychologist and founder of the Wu Zhihong Psychology Centre (广州武志红心理咨询中心). Weibo: 8.4 million followers; Daily WeChat account article reads: 160,000.
Wu Zhihong is one of the most well-known KOLs within the psychology and counseling community in China, particularly known for contributing to the popularization of psychology among the general population. As a practicing psychologist with many years of experience, Wu's content brings a professional perspective to the conversation and caters to a more mature audience.
Having graduated with a Bachelor's and Master's degree in clinical psychology from Peking University, Wu has written as a newspaper columnist and authored 14 books on psychology, including bestsellers such as Why Home Hurts《为何家会伤人》 and Leading A Life With You In-Charge《拥有一个你说了算的人生》. His books have echoed common sentiments found specifically among Chinese audiences, but have also stoked controversy in their critiques of Chinese culture and society, that according to his 2016 book The Giant Baby Nation《巨婴国》, have caused most Chinese adults to be stuck with the mental maturity of an infant.
Such unique and straightforward views have attracted both fervent followers and critics. In 2009, Wu founded the Wu Zhihong Psychology Centre (广州武志红心理咨询中心) in Guangdong, China, which has since expanded to dozens of centres nationwide providing counselling services. He has also designed various online courses and book guides that are easily accessible for listening and watching through his social media channels and apps.
With over 8 million followers on Weibo, his account is used for disseminating observations and advice, as well as commenting on current affairs. Wu's videos are famous for their psychoanalytic dissections of mental health-related news stories in China. On Wu's WeChat, he primarily publishes articles written by his team and reposts relevant articles from other like-minded accounts.
Providing a scientific angle. Having a more academic background allows Wu to bring an elaborately empirical view to the various mental health topics he discusses. While he applies psychological concepts from Western psychology, he also showcases a deep understanding of Chinese society, relationships, and families.
Addressing deeper issues. Wu touches on topics that are more relevant to his older following community, guiding them on managing complex parent-child relations, marriage life, and common societal problems. His clinical practice also allows him a lot of exposure to current issues.
Popular posts
The cure for sleep problems-deep relationships

In a video series titled "The Cure for Sleep Problems", Wu discusses how relationships may indirectly affect the quality of sleep, a topic close to the hearts of many of his followers.

Wu Xieyu's matricide case: why did a perfect schoolboy kill his mother?

His most popular video, reaching over 1 million views through his WeChat and video-sharing platform Bilibili, is an analysis of a murder case involving a young man and his mother. Through using psychoanalytic concepts taken from Freud to strengthen his analysis, Wu not only provides a convincingly authoritative voice on different social matters, but also provides heart-felt advice on how to navigate parent-child relationships.
A Community's Perspective: KnowYourself
An online enterprise active on social media platforms to discuss and highlight issues related to youth mental health in China. Weibo: 260,000 followers; Daily WeChat article reads: 110,000.
Established in 2016, KnowYourself is an organization that provides mental health awareness-raising and psychological services to millions of users every day. Their content is primarily geared towards unpacking the young adult experience and the stresses that come with it, focusing on self-understanding, intimate relationships, sexuality, career struggles, adulthood, and more. Through encouraging their audience to read their articles, take their psychometric assessments, do meditative exercises on their Eclipse (月食) app, use their text counselling services, and attend their local events, this team of professionals has created a community and business that encourages people to understand, engage with and open up about mental health.
On WeChat, their original article posts frequently gain over 100,000 reads each time, with strong engagement from readers. Their articles often incorporate personal stories from their team, discussion of current events, application of pop culture references, and detailed explanations of psychology terms and concepts. As such, their content can attract both those looking for sympathetic advice and those wanting to learn more about psychology.
In addition to this, KnowYourself also focuses on uniting the community by creating safe spaces to help individuals explore their mental health. One of their flagship initiatives is the Self-Exploration Tea Party (自我探索茶会). Held regularly in various locations across the country, KnowYourself hosts these small group gatherings to enable individuals to meet other youths, share their stories, and receive advice in a non-judgemental surrounding. For a country that struggles with having open conversations about mental health, this initiative is both provocative and critical in helping society become more open to these issues. 
Appealing to young people. Most topics covered by KnowYourself are common problems that the youth and young adult population face daily. It is much more accessible and relatable to most social media users who tend to be younger, well-educated, and living in urban areas. On Weibo, KnowYourself effectively interacts with its fans and appeals to the youth aesthetic by sharing inspirational quotes and calming visuals to uplift their audience.
An increasingly recognizable brand. Over the years, KnowYourself has established itself in the online psychological services sphere so much so that they have attracted clients like Estee Lauder, Land Rover, and TMall, providing online services to their employees.
As some of the more notable influencers on mental health in China, the unique work accomplished by Jian Lili, Wu Zhihong, and KnowYourself have helped destigmatize mental health and foster a more open atmosphere for online mental health conversations. Not only have they popularized mental health and psychology for different populations, but they also have, to some extent, helped shape the psychological counselling industry, making mental health care and resources more accessible through their different social media platforms and bringing their expertise into real-life practices.
Of course, there is still room for improvement within China's online mental health arena. As these KOLs showcase, most of their conversations have centred around personal mental health, self-understanding, interpersonal relations, or societal problems. There has been insufficient discussion and interest in preventing or treating more serious mental health illnesses or disorders. Moreover, some of their content may be tailored towards the more educated and younger populations. These mental health resources are only accessible to those with convenient access to online platforms, leaving behind many in the rural areas of China that do not have such amenities.
While these influencers cover a significant need by providing resources and counselling, their services cannot fully remedy the lack of investment and coverage from the medical and health sector side of mental health in China. The government still needs to play a more prominent role in mental health care, which, is starting to show through their recent focus on addressing depression and increasing psychosocial services in Healthy China 2030, the 2021 Government Work Report, and other policy directives.
Making mental health care a reality starts with having open conversations about mental health. As these influencers show, it continues with establishing safe spaces for counselling treatment. The next step is to ensure further quality, accessible, and sustainable mental health services for all.
More on China's mental health care for World Mental Health Day:
More
At Bridge Consulting, we also recognise our part in the mental health conversation in China. Have a look at our Weibo page to find out more. And for our Chinese audiences, our WeChat account also has articles on mental health stigma such as 这位男同学,你上一次大哭是什么时候?
Christine Ow
Christine Ow is a Singaporean international student currently studying at the University of California, Los Angeles, majoring in Political Science. She is passionate about sustainable development and environmentalism and hopes to work in those fields in the future. Find Christine on LinkedIn.
Marisa Lim
Marisa Lim is a Singapore-based aspiring trailblazer majoring in Biomedical Engineering with a specialization in Robotics, passionate about global health and social causes. Find Marisa on LinkedIn.
Zoe Leung
Zoe Leung is a Junior Associate at Bridge. With a background in global health and international development, she understands that health is much more than just a medical matter. She is passionate about finding ways to improve health for both the individual and society. Find Zoe on Linkedin.