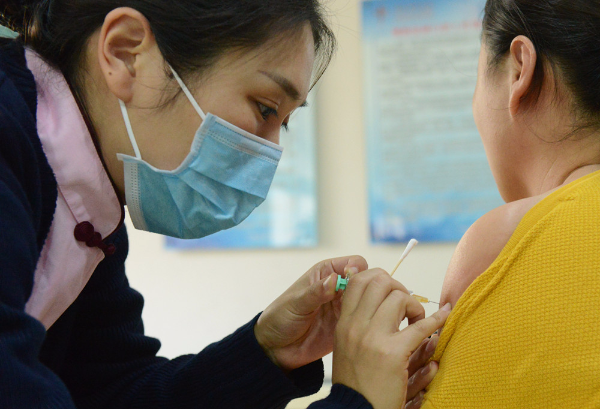 February 4, 2022 | By Marisa Lim, Junior Consultant, Bridge Consulting | Image source: China Daily
Cervical cancer is the 4th most common cancer among women globally.
Cervical cancer ranks as the 6th most frequent cancer among women in China and the 3rd most frequent cancer among its women between 15 and 44 years of age.
In 2006, a groundbreaking scientific development changed the course of many women's lives worldwide – the development of the first Human Papillomavirus (HPV) vaccine.
Over the past year, China has taken a significant step forward in its fight against  cervical cancer.
This World Cancer Day on 4 February, we explore two facets of China's fight against cervical cancer and the opportunities they hold.
Cervical Cancer and the Need for HPV Vaccines
Cervical cancer is a result of a sexually acquired infection with certain types of HPV. When the HPV infection fails to clear up on its own, it becomes chronic, causing pre-cancerous lesions to progress to invasive cervical cancer. According to the World Health Organization (WHO), the primary prevention in cervical cancer control is HPV vaccination – and the results show. In November 2021, an eight-year research done in the UK revealed that the country's HPV vaccination program dramatically reduced cervical cancer rates in those who received the jab when they were younger.
China is aiming to replicate similar results seen in other parts of the world by not only boosting its nationwide HPV vaccination drive but also developing its own HPV vaccines. In this article, we explore the two facets of China's fight against cervical cancer and the opportunities they hold.
According to a 2021 report in The Lancet, less than 1% of girls aged 9 to 14 have gotten their HPV shots. China's low HPV vaccination rate is related to several factors that the vaccination campaign has experienced over the years. In general, people in China are keen and open to getting the vaccine but widely lament the difficulty of accessing it due to unreasonably high prices and a shortage of appointments.
On this Weibo post, most of the 7,522 comments complained about the shortage of appointments.
Challenges in HPV Vaccine Rollout
Pricing problems. For the longest time, women in China were unhappy with the unreasonably high cost of HPV vaccines offered. While a 9-valent HPV vaccine will provide greater protection, a study showed that more women would instead get the lower-valent HPV vaccines (2vHPV and 4vHPV) as they were more affordable.
Hacking and scams. The scarcity of available appointments has driven some to extreme measures, while some organizations take advantage of people's urgent need to get vaccinated. One student was recently arrested for hacking a hospital  booking system to secure an appointment, while many firms have been fined for scamming large sums of money with false subsidies and fake HPV vaccines.
Supply issues. Low import quotas of HPV vaccines into China have caused many shortages nationwide. Even those willing to fork out for the highly priced vaccine had trouble getting vaccination appointments. Many have taken to social media site Weibo to express their frustrations.
A trending post on Weibo of a video encouraging people to get any available HPV vaccine instead of "blinding waiting on the nonvalent vaccine" garnered backlash in the comment section, with many netizens lamenting the difficulty of securing vaccination appointments. The top two comments say: "I really cannot get an appointment, they should prioritize those who are almost past the age limit," "Always giving suggestions and recommendations, can there be shorter wait times for appointments? You think we don't know that it's best to get the vaccine as soon as we can?".
Pilot vaccination programs have been rolled out on a provincial level, but a similar initiative has not been included in the country's national immunization program.  Despite this, demand for HPV vaccines is exceptionally high, and with the rise in pilot programs and the development of local vaccines, the domestic market is in the early stages of expansion. In January 2022, China made a remarkable announcement that it would gradually launch free HPV vaccinations nationwide, opening up more opportunities for people to get inoculated. The capital city of Hebei, Shijiazhuang, became the latest city to provide free HPV vaccinations for 14-year-old girls.
While the challenges in China's HPV vaccination drive are far from few, there is a stronger political will to promote HPV vaccines across the country. Recent developments in China's HPV vaccine R&D might help resolve these issues.
HPV Vaccine Development in China
As an alternative to importing HPV vaccines, vaccine manufacturers in China have also begun producing their own HPV vaccines. Most notably, in 2020, China approved its first domestically developed HPV vaccine for production, Cecolin, manufactured by Innovax. Within the same year, the Cecolin HPV vaccine received prequalification by the WHO, making it the fourth HPV vaccine in the world to receive this status.
The global HPV vaccine industry grew from USD 2 billion in 2014 to USD 3 billion in 2018, primarily due to a significant increase in vaccine exports to China starting in 2017. However, exports to China only reached slightly over 30 million doses by 2020, meaning that a large percentage of the target population remained unable to be vaccinated. As of 2021 579.4 million Chinese women ages 15 years and older continue to be at risk of developing cervical cancer.
On top of the approved vaccines, there are currently 26 Chinese HPV vaccines in development.   Five are currently in Phase III of clinical trials, three are in Phase II, and the rest are in Phase I or are applying for clinical trials. In 2020, Innovax announced a pledge together with MSD, GSK, SII, and Walvax to ramp up the supply of HPV vaccines for at least 84 million girls in Gavi-supported countries.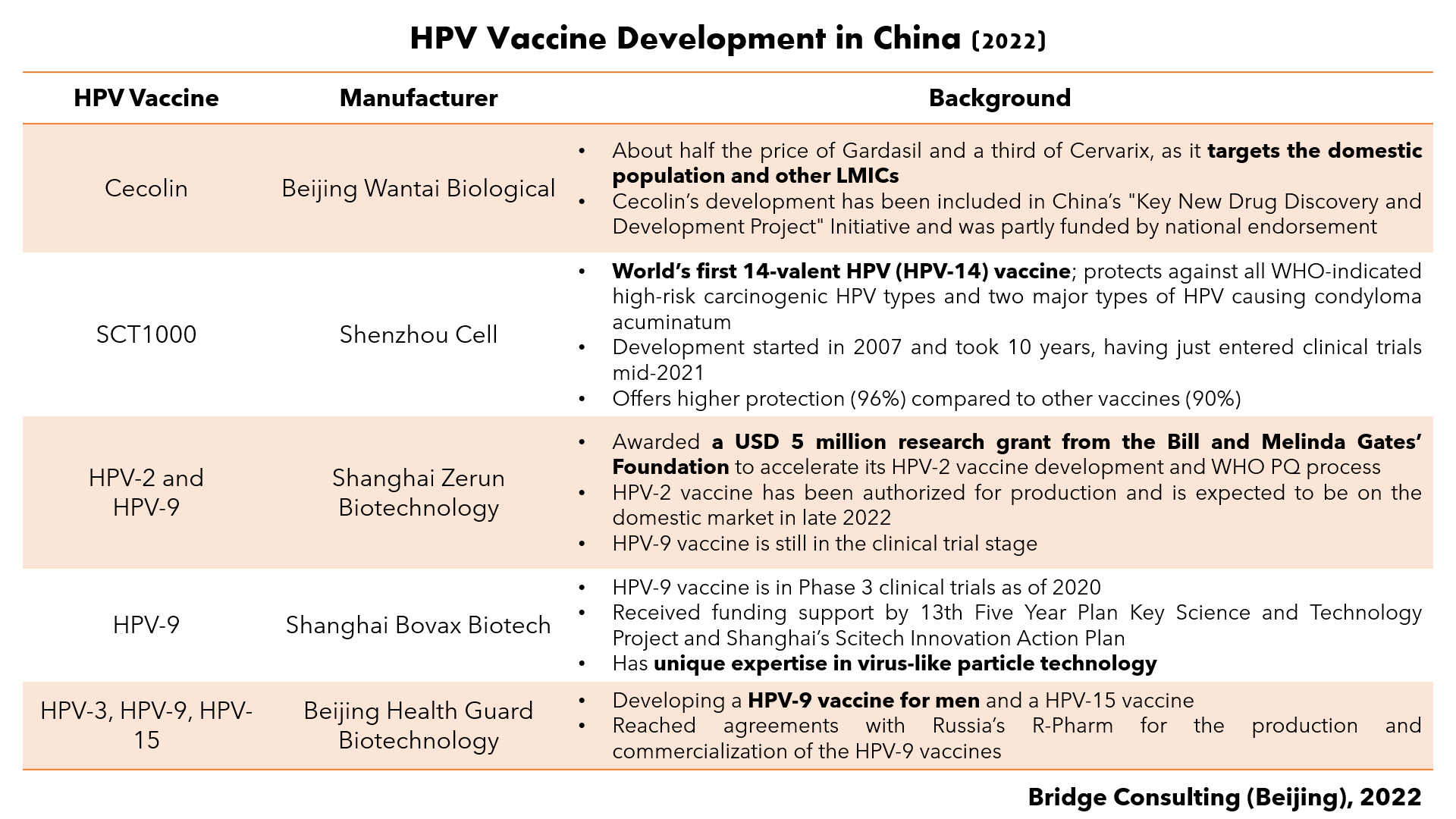 Domestic reception of Chinese-made HPV Vaccines
Ever since Cecolin was made available in China, there have been mixed responses towards the domestically developed vaccine. Despite the expected positive reception following such a monumental step forward in vaccine development in China and the increased access to this much-needed vaccine, it is not uncommon to see netizens on Weibo expressing their doubts, mainly over the potential side effects of the shot. However, there are still many resources available online, especially on Weibo, to educate the public on the importance of HPV vaccines.
Many educational videos and advertisements for HPV vaccination have been recently trending on Weibo. Most recently, a trending hashtag #我国适龄女孩HPV疫苗接种率不足1%# (Translated: less than 1% of eligible girls in the country have received the HPV vaccine) has been viewed over 110 million times. The hashtag, popularized by local news channel CCTV, aims to raise awareness about the rising rate of cervical cancer incidence and mortality. The top post encourages those who have yet to receive the vaccine to get it soon.
Read more on the importance of Weibo health influencers in vaccination campaigns: Leading the Vaccine Conversation in China: Four Weibo Influencers You Need to Know
The Road Ahead for China's HPV Vaccines
China is trying its best to support WHO's cervical cancer elimination strategy by vaccinated 90% of its female population against HPV. As the country moves ahead with its free HPV vaccination drive, more girls and women nationwide will be encouraged to get vaccinated. The increasing number of resources online is a hopeful sign that current doubts will eventually experience a turnaround. However, it is still vital for China to resolve its vaccine shortage issue.
The country's HPV vaccine development race could be a potential solution to the current shortage. As more domestic vaccines get approved and are rolled out, China may no longer rely on imports to boost its vaccine supply. Beijing Health Guard Biotechnology alone has an estimated annual manufacturing capacity of 30 million doses, nearly the same as the number of HPV vaccines imported into China from 2017 to 2020. The need to accelerate HPV vaccine development in China opens many investment opportunities for the private sector and philanthropic community, just as how Merck has partnered with Sinopharm and PATH with Innovax. As China is now the biggest exporter of COVID-19 vaccines worldwide, it is highly possible that local HPV vaccine development can also be scaled up rapidly to export these vaccines to other countries.
Though challenges in bringing HPV vaccines to Chinese girls and women are far from few, we can conclude that people are eager to get vaccinated when given a chance to. Indeed, the road ahead for China's HPV vaccine rollout and development seems uncertain, but this gives us reasons to be optimistic about the country's fight against cervical cancer, one shot at a time.
Marisa Lim
Marisa Lim is a Singapore-based Junior Consultant with Bridge Consulting. With a background in Biomedical Engineering at the National University of Singapore, Marisa is an aspiring trailblazer with a passion for global health and social causes. Find Marisa on LinkedIn.