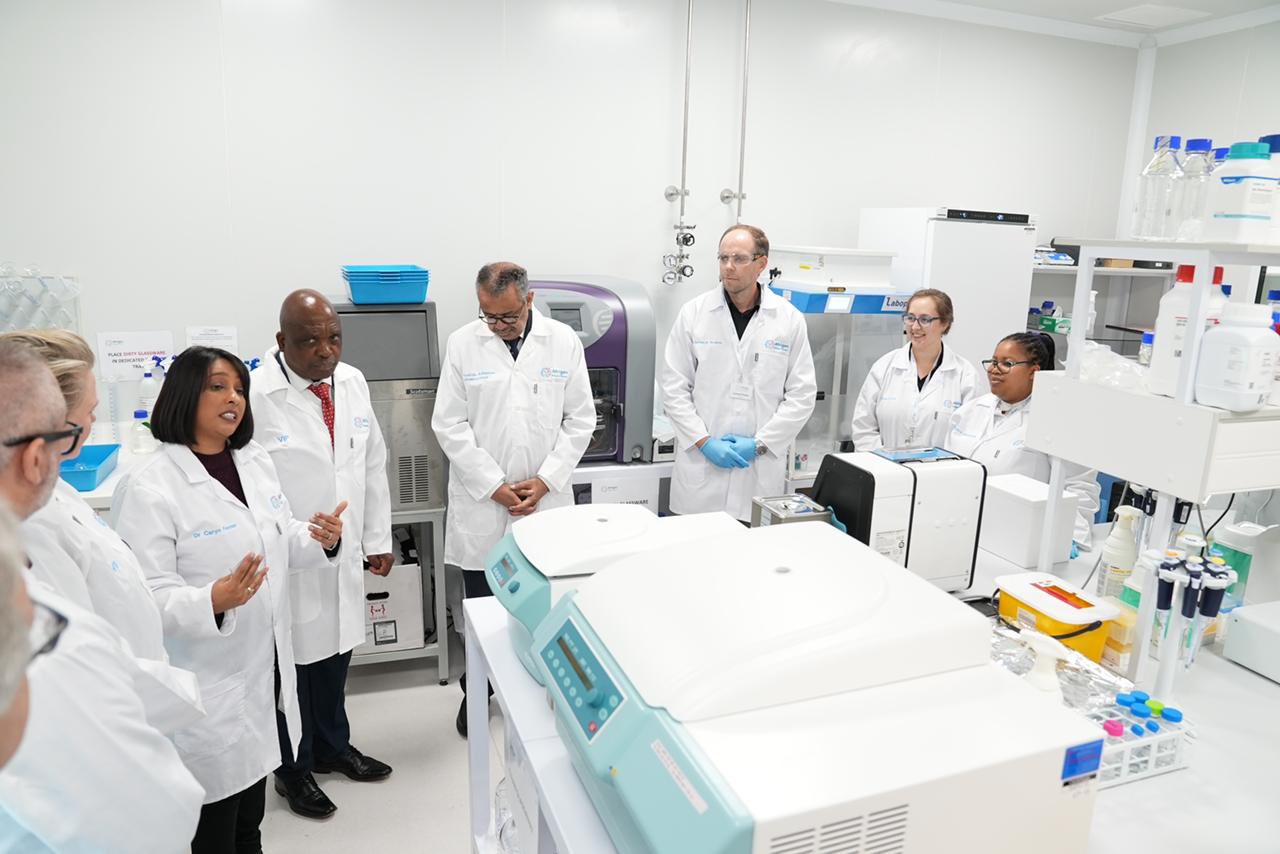 WHO Director-General Tedros visiting the WHO-supported mRNA technology transfer hub at Afrigen Biologics in South Africa | Source: Twitter
June 29, 2023 | Bridge Consulting
Three years of COVID-19 has brought about various lessons for China, and to say the least, for its vaccine industry. In the past, vaccines had to go through a tedious decade-long process of research and development, clinical trials, approval and production. However, in the face of the unexpected pandemic, with the close cooperation between the public and private sector, vaccine R&D in various countries has experienced unprecedented acceleration, leading the development cycle of vaccines to be shortened to as little as 10 months. COVID-19 has become a watershed for the field of vaccines.
At the same time, China's vaccine industry has also expanded its reach beyond its borders during the pandemic. Chinese domestic COVID-19 vaccine makers invested in joint production, technology transfer, and plant construction with foreign partners in various regions. As we mentioned in our previous article, Africa is poised to be a new blue ocean for Chinese vaccine companies looking to expand abroad. The continent's lack of domestic capacity for vaccines prompted realization of the need to address its heavy dependence on vaccine exports and led to a global push towards local vaccine manufacturing. 
This response – the African Union's Partnership for African Manufacturing (PAVM) – has worked to build momentum towards the goal of being able to develop, produce and supply 60% of the total vaccines required by the continent. Even more, PAVM has attracted significant support from international organizations and development banks, who have also been willing to support local African manufacturers and their cooperation with global manufacturers. Under these growing cooperation pathways, Chinese manufacturers should look towards potential models and patterns for contributing to the PAVM and sustaining their overseas reach.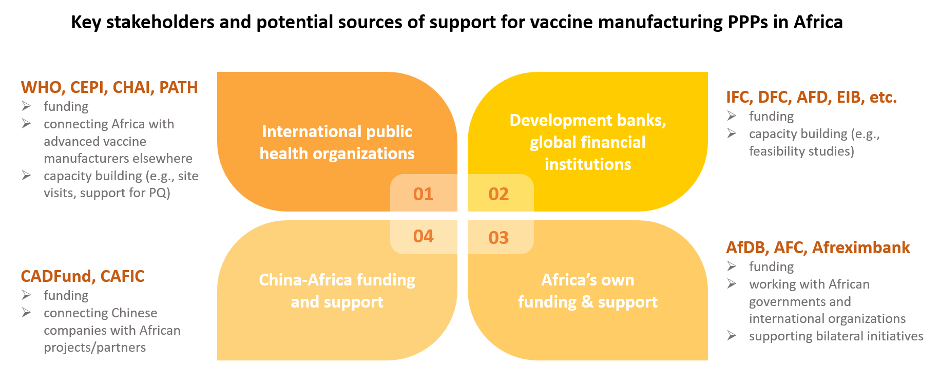 Source: Bridge Consulting
International organizations and their commitments on scale-up and capacity-building of African vaccine manufacturers
International public health organizations have been at the forefront of supporting multinational efforts to scale up the capacity and production of promising African vaccine manufacturers. In addition, they have been fundamental in providing know-how and training to build up local expertise.
World Health Organization and Medicines Patent Pool: 
In July 2021, South Africa inaugurated the first WHO-led mRNA vaccine technology transfer hub hosted by a three-party consortium comprised of Afrigen Biologics – a biotech company mandated with establishing the mRNA technology and acting as a center of excellence and training, the South African Medical Research Council – to lead the research, and Biovac – the vaccine 'spoke' responsible for scale-up of manufacturing. As the designated hub, the Consortium has been tasked with developing a vaccine based on mRNA technology, and sharing its methods and know-how with a network of (now 15) interested recipients (spokes) residing in other low- and middle-income countries worldwide.
While the hub is currently focused on developing a COVID-19 mRNA vaccine based on publicly available information, its long-term objective is to build mRNA vaccine production capacity across LMICs and contribute to Africa's PAVM goal. To do this, Afrigen scientists have developed training programs for partner spokes across Africa, Asia, Eastern Europe, and Latin America to share know-how, have conducted site visits to help set up their facilities, and supported the gradual tech transfer and commercialization of the vaccine. 
The WHO has driven the project by selecting the hubs and spokes, providing technical expertise and advocating for its operation. Meanwhile, it has also set up another training program, headed by the International Vaccine Institute as the selected Global Training Hub for Biomanufacturing, to provide training on operational and GMP requirements for interested LMICs, and complement the mRNA tech transfer hub training provided by Afrigen. 
Meanwhile, the Medicines Patent Pool, a United Nations-backed organization that helps to negotiate licenses for the generic production of medicines, will help the Hub sort out licensing agreements for the vaccines that Afrigen develops. MPP has also provided Afrigen with a EUR 39 million grant for its 2021-2026 period (which conversely has been funded by the French Ministry for Europe and Foreign Affairs).
In December 2022, CEPI and the Bill & Melina Gates Foundation each committed USD 15 million to fund a ten-year agreement between the South Africa-based Aspen Pharmaceuticals and the Serum Institute of India. This agreement, announced in late August 2022, will allow Aspen to manufacture and market four routine vaccines – pneumococcal, rotavirus, polyvalent meningococcal, and hexavalent vaccines– in Africa from bulk drug substance and tech transfer supplied by the SII. At the same time, this USD 30 million funding will help equip Aspen with the capacity needed for reserve manufacturing use in the event of a future epidemic outbreak.
Apart from funding, international organizations have had a role in monitoring progress for coordinating purposes, as in the case of CHAI and PATH. In January 2023, in line with PAVM's vision, Africa CDC, CHAI and PATH conducted a joint site visit to Maroc Biotechnologies (MARBIO, formerly known as SENSYO Pharmatech), a new fill-and-finish site launched in January 2022 with investment by the Moroccan Government and a consortium of Morocco's leading banks as a public-private venture with Swedish multinational pharmaceutical Recipharm. The visit acted as a fact-finding mission for the organizations to understand MARBIO's production plans and help inform their provision of technical and commercial support to MARBIO, as well as guiding strategic planning for broader market-shaping mechanisms and regional coordination.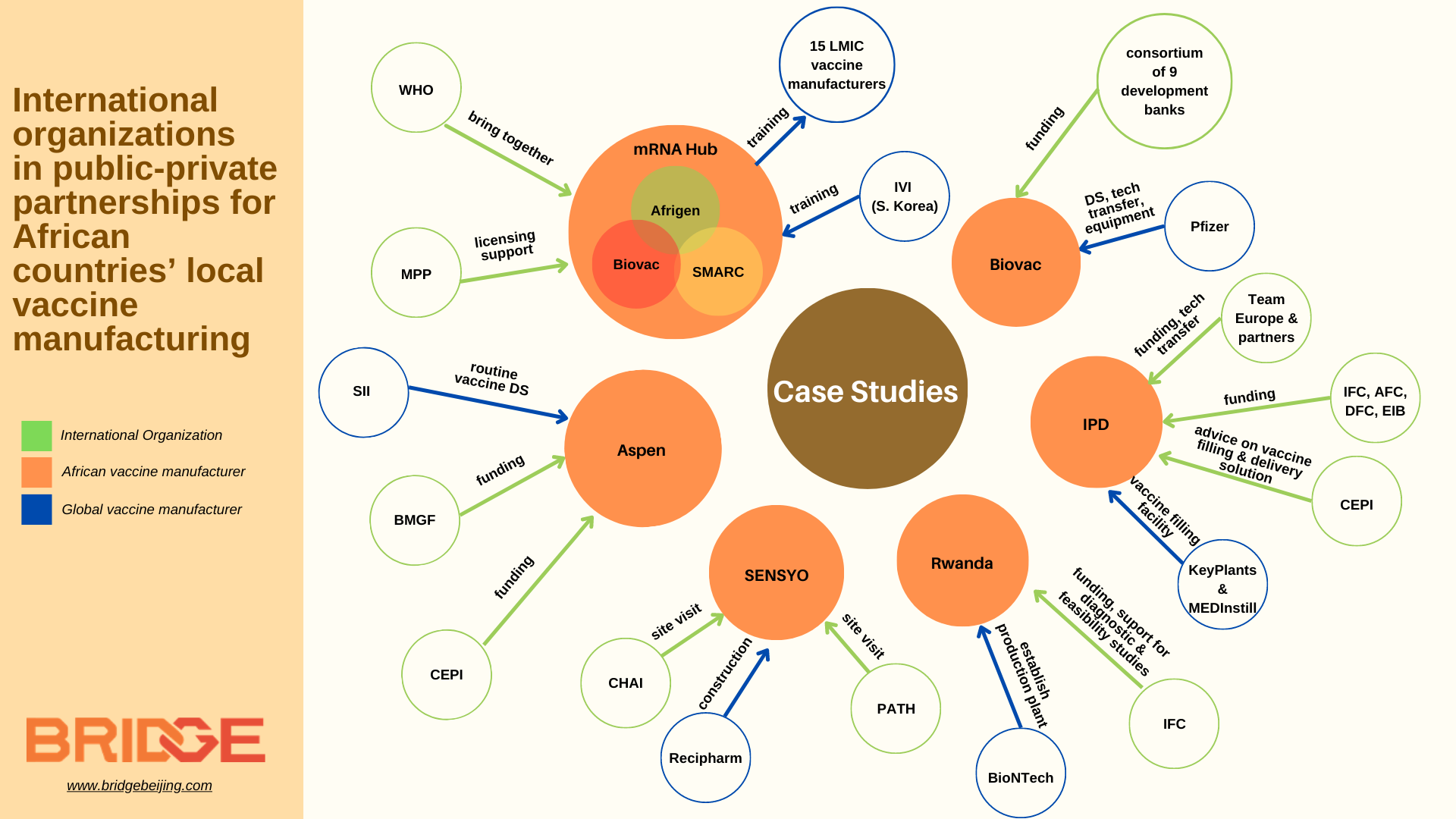 Source: Bridge Consulting
Development banks kicking off manufacturing facility projects
Other than international public health organizations, development banks and global financial institutions have also been key players in supporting African vaccine manufacturing projects, especially through loans and grants to kick off large manufacturing projects.
South Africa's Biovac: In July 2021, Biovac agreed with Pfizer to manufacture up to 100 million doses annually of the Pfizer-BioNTech COVID-19 vaccine for use exclusively in Africa. In the long run, Biovac also wants to expand its manufacturing capacity for routine vaccines, requiring about USD 150 million to be raised. A consortium of nine development partners (AfDB, CDC Group, DEG, DFC, EIB, IFC, Proparco, the European Union Delegation to South Africa, and the Industrial Development Corporation of South Africa) agreed in March 2022 to support Biovac's ambition of expanding capacity.
Institut Pasteur de Dakar (IPD): As one of the early WHO-prequalified vaccine manufacturers in Africa, IPD received immense support in financing their plans to scale up production of COVID-19 vaccines in Africa and to construct a regional manufacturing hub. Coined "Project MADIBA" (Manufacturing in Africa for Disease Immunization and Building Autonomy), the construction of this new facility has received a significant mix of grants, public and private financing from multiple international funders (the International Finance Cooperation, European Commission, European Investment Bank), and individual country development banks (Germany's BMZ, France's AfD, and the US DFC). Across 2021, the funders signed grant agreements with Senegal as initial investments for feasibility studies and project preparation, later unlocking larger funding amounts of USD 222 million from the IFC to support extending IPD's vaccine portfolio. 
Outside of financing, the IPD has gained support from international partners in strategy, technical expertise, and technology transfer. CEPI has formed a partnership with IPD to advise on the implementation of an innovative vaccine filling and delivery solution, licensed from US developer MedInstill. IPD has since also partnered with Netherland-based CDMO Batavia Biosciences and Belgium biotech company Univercells, using their respective production processes and technology platform to develop affordable Measles and Rubella vaccines with funding from the Gates Foundation. 
Rwanda's BioNTainers: In September 2021, for the collaboration between BioNTech and Rwanda to establish vaccine production facilities in Rwanda, IFC agreed with the Rwanda Development Board to support Rwanda to conduct diagnostic and feasibility studies. In so doing, the IFC aimed to ensure that the right technical and policy frameworks needed to establish a world-class vaccine manufacturing supply chain in Rwanda were in place. In March 2023, BioNTech successfully delivered 6 shipping containers for the first of two modular BioNTainers. The facility in Rwanda is intended to become the first node in a decentralized and robust end-to-end manufacturing network in Africa, where BioNTech is also working with Senegal and South Africa.
African and Chinese development funds as potential sources
Though not specific to vaccine production, several of Africa's own and China-Africa-specific funding projects also hold the potential of enabling multinational cooperation on Africa's local vaccine manufacturing.  
The African Pharmaceutical Technology Foundation (APTF), initiated by the African Development Bank (AfDB), aims to boost Africa's access to technology for manufacturing the full range of pharmaceutical products. AfDB will invest at least USD 3 billion for this over the next decade. Backed by this investment, APTF is expected to commence operation in early 2023, working with African governments, R&D centers, the AU and EU Commissions, the WHO, WTO, MPP and others to foster public-private collaboration and enhance Africa's pharmaceutical innovation ecosystem. It aims to "serve as a transparent intermediator advancing and brokering the interests of the African pharmaceutical sector on the global stage [for both global and other Southern pharmaceuticals] to enhance access to proprietary technologies, know-how, and related industrial processes, through licensing and other market-based and non-market mechanisms." Accordingly, it will also help strengthen bilateral initiatives such as the partnership between BioNTech and Senegal's IPD to produce COVID vaccines.
While the precise amount of funds offered is unknown, the African Financial Corporation and Afreximbank have also signed an agreement in May 2021 to co-finance vaccine manufacturing projects in Africa. This is both to offer preparatory support to project developers and promoters and to help unlock major market barriers (border clearance, road and freight logistics, cold-chain and warehousing on the continent and access to the market).
On the other hand, China is also promoting Chinese companies' investment in African firms and projects, including PPPs, under the Forum on China-Africa Cooperation (FOCAC). In this respect, two primary sources of funds are identified in the FOCAC Dakar Action Plan (2022-2024). The first is the China-Africa Development Fund(CADFund) from the China Development Bank. With a capital amount of USD 10 billion, the Fund supports Chinese firms to invest in Africa and seeks Chinese partners for African projects in sectors including agriculture, infrastructure, energy and manufacturing.
The China-Africa Fund for Industrial Cooperation (CAFIC) is another source of funding that Chinese companies can tap into. Backed by the Export-Import Bank of China, CAFIC aims to support projects that could promote China-Africa cooperation, improve the well-being of African people and facilitate Chinese and African economic development.

Looking Forward
International organizations and development funds have been invaluable in kick-starting progress towards the PAVM goal. Funding has been a necessity in supporting manufacturing through the COVID-19 pandemic and scaling up the manufacturing capacities of existing facilities as well as the construction of new ones. But international expertise has also been important in filling gaps and ushering in productive partnerships. As Chinese manufacturers look towards entering the African vaccine market, they can take note of these public-private partnerships as models for supporting local manufacturing and accessing global support.