The global convergence on Africa's vaccine manufacturing agenda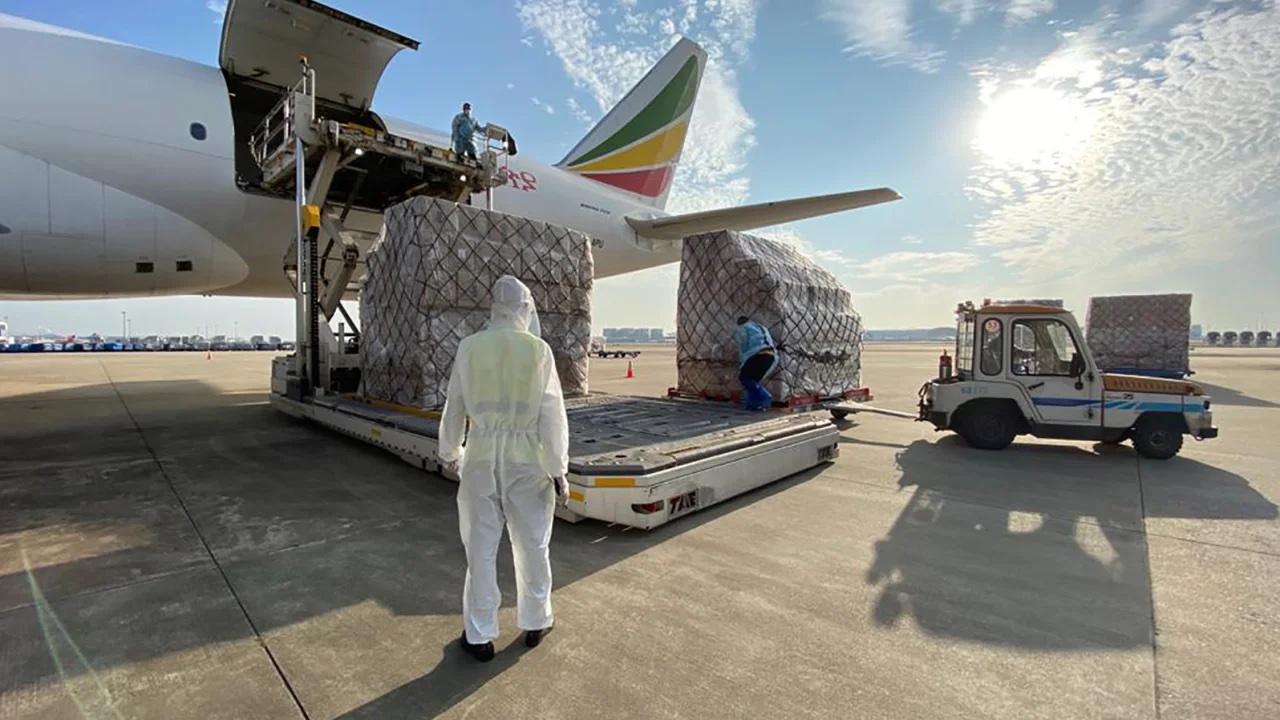 March 29, 2023 | Bridge Consulting
Over 21 months since February 2021, Bridge Consulting has grown its flagship China COVID-19 Vaccine Tracker into a comprehensive database on China's vaccine sales, donations, and deliveries worldwide during the pandemic—becoming a valuable source of reference for informing the public about China's commitment to making COVID-19 vaccines a 'global public good'.
Looking back, the tracker bears witness to the global imprint of China's COVID-19 vaccines: 1.853B doses sold, 328M doses donated, and 1.653B doses delivered from December 2020 to December 2022. Yet over the past year, China's vaccine outreach has shifted significantly with the changing COVID-19 situation—deliveries have dropped dramatically, while joint vaccine R&D and production has emerged as a new area for South-South cooperation. With China signaling its intent in recent high-level meetings with Egypt and Algeria to continue and even expand work on joint vaccine production, we have decided to conclude the current tracker and explore a new methodology in this next phase of looking at China's vaccine cooperation with developing countries.
Africa in particular, has become the new ground for a global convergence on vaccine manufacturing. Just a month into the new year, the continent welcomed a number of high-level visits from global leaders. On January 11, China's new Foreign Minister Qin Gang went on a 5-country trip to Africa in which he inaugurated the China-aided Africa CDC headquarters, setting the stage for upgraded China-Africa health cooperation. Weeks later, both US Secretary of the Treasury Janet Yellen and EU High Representative for Foreign Affairs Josep Borrell made their own respective trips to Africa, discussing everything from security and trade, to pandemics and health.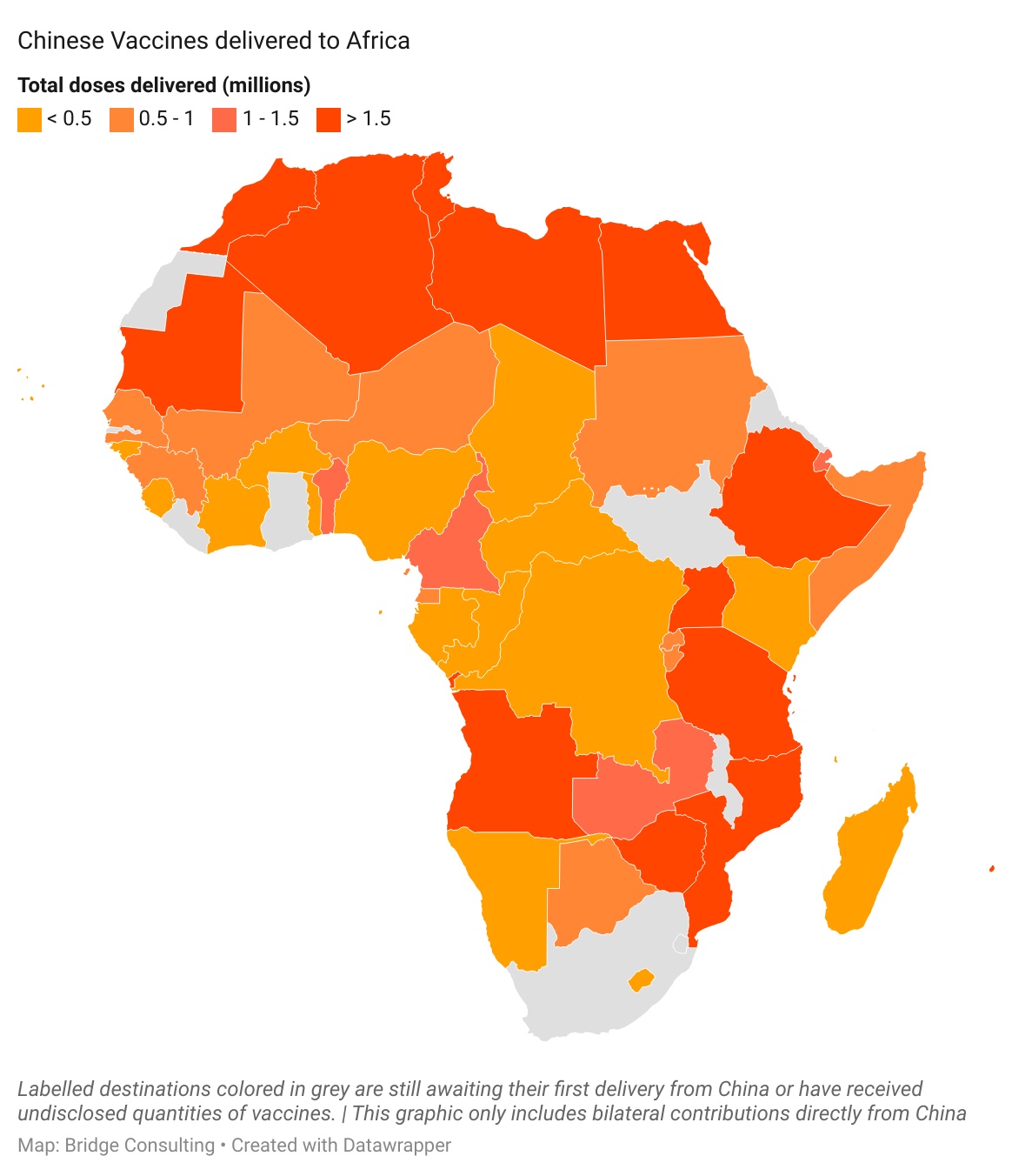 While the topic of vaccines in Africa has occupied just a fraction of discussions, it has become a growing point of interest. Adding on the way COVID-19 brought attention to Africa's urgent need for vaccine self-sufficiency, the continent has become central to global efforts in bolstering local vaccine manufacturing.
The Need for Vaccines in Africa
When looking at deliveries by region, our China COVID-19 Vaccine Tracker shows that 153 million doses went to 47 African countries, accounting for 10.8% of total vaccine deliveries from China. Besides bilateral vaccine distributions, China also delivered vaccines to 25 African countries through the COVAX initiative. While lagging behind that of deliveries to Asia and Latin America, Africa still received a higher proportion of donations compared to sold vaccines.
Despite these impressive numbers, the lack of vaccine self-sufficiency was sharply felt by Africa during the pandemic. Across the continent, a dearth of capability for production meant heavy reliance on deliveries to access life-saving vaccines. This resulted in problems of inequity that afflicted everything from production, to distribution, and access. Even beyond COVID-19 vaccines, this has been a global health security issue, as Africa contributes to less than 0.1% of the global supply of vaccines. And it has been a regional public health issue, as only 1% of the vaccines used on the continent is manufactured locally.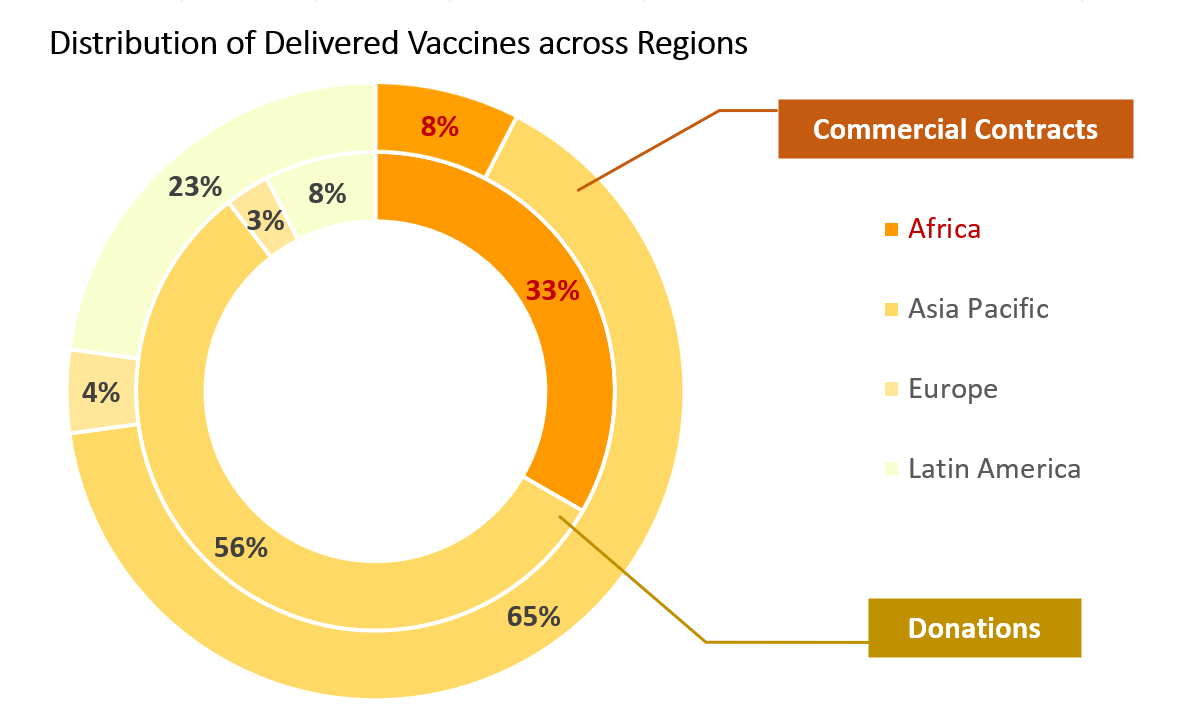 However, the past two years have marked a turning point. Even as 2022 saw a sharp decline in global vaccine deliveries to developing countries, whether bilaterally from China, from the United States, or through COVAX, there have been concentrated efforts to scale-up Africa's vaccine manufacturing.
Outside of the pandemic, Africa's demand for vaccines is projected to grow at a rapid rate—due to population growth, the need to expand vaccine coverage and access, projected decline in vaccine prices, and the emergence of new vaccine products. Across 2021 and 2022, pharmaceuticals like BioNTech (in Rwanda), Sinovac (in Algeria and Egypt), Sinopharm (in Morocco), Recipharm (in Morocco), and Johnson & Johnson (in South Africa), among others, all launched construction of local vaccine production plants, and initiated or planned technology transfer with African partners.
More crucially, these endeavors have been backed by strong political will through the African Union's vision of the Partnerships for African Vaccine Manufacturing (PAVM), the goal for Africa's vaccine manufacturing industry to develop, produce and supply more than 60% of the vaccine doses required on the continent—the equivalent of at least 1.5 billion vaccine doses per year—by 2040, with interim goals of 10% by 2025 and 30% by 2030. In support of this, an array of global actors have since become involved with this agenda through various mechanisms.

It is this hopeful trend—the transition to Africa's vaccine self-sufficiency through international cooperation—that Bridge intends to continue monitoring through a new public intellectual product.
Particularly, it will be of interest to see:
Who are the actors involved?
What are their different commitments to African countries' local vaccine manufacturing?
What are the actual outcomes for individual African countries and the continent?
What are the opportunities and challenges for Africa and its partners to enhance vaccine production and uptake on the continent?
Key Observations
As Africa starts focusing its domestic efforts on vaccine manufacturing, and global players progress in their involvement with these efforts, this newly formed ecosystem has moved in a few key directions that have implications on how we want to continue onwards.
Moving beyond COVID-19 vaccines
Early on in the pandemic, international cooperation on vaccine manufacturing was largely focused on responding rapidly to the rising demand in COVID- 19 vaccines. Still, a number were able to look beyond the immediate situation to consider long-term investment in  vaccines for Africa. The AU's intention through scaling up local manufacturing is also to move beyond COVID-19 vaccines and become self-sufficient in vaccines for legacy diseases, expanding diseases, and emerging diseases, per the PAVM Framework. In tracking concrete progress, there has been discussion of incorporating routine vaccines into tech transfer (e.g. by the Serum Institute), developing the mRNA vaccine platform through WHO's hubs for a variety of uses, as well as other planned production.
Domestic competition versus coordination
Despite the continent's will for progress, many African countries are limited in their technical advancement. As such, most global players have heavily focused their efforts, whether tech transfer, funding or joint production, on just a handful of sites in countries like South Africa and Senegal, i.e. Biovac, Aspen, and the Institute Pasteur in Dakar. 
Elsewhere, across Morocco, Egypt, and Rwanda, there have been overlaps in their initiatives, with each proposing to become the next 'regional center for vaccine manufacturing' in Africa. While some manufacturing plants may have the backing of a number of international partners, others are driven more independently through bilateral projects.
Under the grand scheme of a continental strategy, a key marker will be whether these new international partners and initiatives can contribute to the coordination of complementary vaccine manufacturing sites across Africa. This would lead to greater capacity for regional exchange rather than duplication of efforts. And relatedly, the assurance of stable pricing and supply of vaccines.
Global geopolitics and new actors
Outside of these domestic actors, cooperation in the context of geopolitical competition is also key. Notably, countries outside the group of traditional donor countries—such as China, India, and previously Russia—are also playing an increasing role in collaborating with African countries in the vaccine manufacturing field. However, some have lacked in their integration with other facets of Africa's vaccine manufacturing agenda and with other partner initiatives.
In particular, China's three joint vaccine production initiatives with Morocco, Egypt, and Algeria have all been conducted bilaterally. They have involved both sides' vaccine manufacturers with some facilitation from government ministries: Sinovac with Egypt's Vacsera and Algeria's Saidal (both state-owned), and Sinopharm with Morocco's Sothema. So far, all three partnerships have stopped at fill-and-finish, limited fill-and-finish tech transfer, and construction of facilities. China has yet to cooperate under a multilateral partnership or with an international organization in expanding African vaccine manufacturing under a long-term view.
Of course, this article provides only an initial assessment on this growing ecosystem. Our ultimate aim is to continue making information accessible to an interested audience, especially those concerned about global vaccine equity and China's potential contribution to it. As cooperation grows between Africa and global partners, the African vaccine manufacturing landscape will continue to evolve, with implications for the global vaccine market and the developing world. Within the possible overlaps and likely competition, there needs to be a way to identify the numerous opportunities that lie ahead.
To further engage with us in this conversation, please contact vaccinetracker@bridgebeijing.com.