As China seeks to increase vaccine exports to Africa, it should also support the implementation of their vaccination campaigns.
This opinion article was originally published in CGTN on October 3, 2021.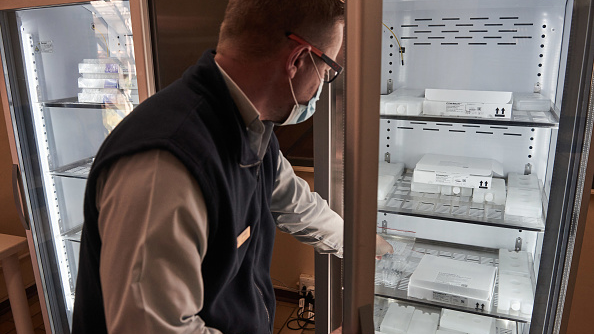 Fridges storing Pfizer-BioNTech Comirnaty branded COVID-19 vaccine at Anglo American Platinum Ltd.'s Tumela mine in Amandelbult, South Africa, August 12, 2021. /Getty
The equitable global distribution of COVID-19 vaccines was a major subject at the 76th UN General Assembly (UNGA) last month. To date, less than 1 percent of people in low-income countries have been fully vaccinated, compared with the 10 percent in middle-income countries and more than 50 percent in high-income countries.
Leaders of various African countries, such as Rwanda, the Democratic Republic of Congo and Zambia, spoke up during the UNGA to call for equitable access to COVID-19 vaccines. Rwandan President Paul Kagame said, "We can and must do more to speed up vaccine distribution in Africa. Doing so benefits the entire world."
Even looking at Africa alone, there has been a large gap in vaccine distribution between North Africa and Sub-Saharan Africa. Many countries in Sub-Saharan Africa rely heavily on the vaccines distributed through the COVID-19 Vaccines Global Access (COVAX) initiative, which aims to provide equitable distribution of vaccines worldwide. However, with supply shortages, export restrictions and considerable stockpiling in some high-income countries, COVAX has been unable to fulfill its delivery targets, greatly affecting the vaccination progress in these countries.
Since more than a year ago, China had expressed political will in supporting African countries to obtain vaccines. On September 31 last year, President Xi Jinping promised China would provide COVID-19 vaccine shots as a global public good as soon as China had developed and started deploying a vaccine for use and that access would be prioritized for developing countries, especially in Africa. As of September 13, China has delivered 61 million doses of vaccines to Africa. China is also increasing its COVAX support with a $100 million donation announced by President Xi on August 5.
However, solely increasing the volume of vaccine deliveries to Africa will not fulfill President Xi's promise of making vaccines a global public good, nor will it realize the goal of vaccine equity. Simply sending vaccines that arrive at recipient countries' ports will not ensure the actual administration of vaccines to their populations. In early September, the World Health Organization's Regional Office for Africa noted that as vaccines supplies through channels like COVAX and the African Union increased, Africa could receive enough doses to meet the 10 percent target. Even so, to date, 26 countries on the continent have only administered less than half of the vaccines they have received.
Unequal vaccine distribution is only part of the reason for Africa's low vaccination rate. Even with the dedicated work from global health organizations like United Nations Children's Fund and the GAVI Alliance supporting childhood immunization in Africa over the past two decades, the vast majority of African countries face severe constraints within their public health infrastructure. This includes not having basic transport infrastructure and logistics systems that can distribute vaccines, qualified medical personnel and cold chain facilities that can store and transport vaccines, etc. It is these issues that, to a large extent, prevent countries from conducting effective vaccination campaigns regardless of the number of vaccines they receive.
Taking logistics and cold chain as an example, most of the facilities and systems in Africa have mainly been developed for national children's immunization programs, and as such, face significant challenges in the scale-up needed for COVID-19 vaccination campaigns. In practice, the vaccines that require ultra-cold storage have only been delivered to parts of North and Southern Africa, where the public health infrastructure is comparatively more advanced.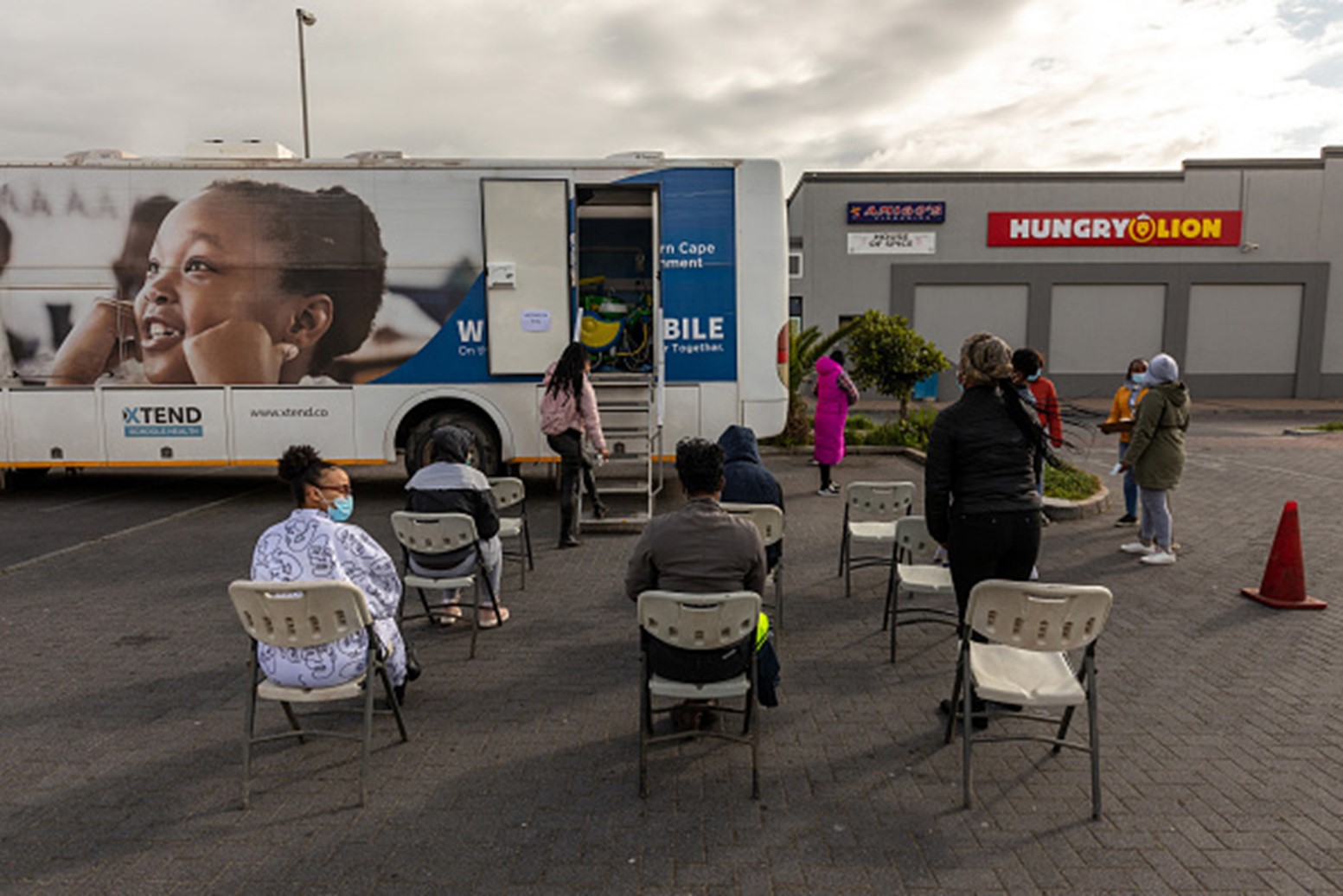 Residents wait in an observation area outside a pop-up vaccination bus in Cape Town, South Africa after receiving their COVID-19 vaccine, August 26, 2021. /Getty
The pandemic has brought forth the rapid development and application of new technologies like mRNA vaccines and simultaneously exposed us to a disturbing reality: If a country or region's public health infrastructure is weak, having effective diagnostics, prevention and treatment tools will still not guarantee that everyone will benefit. Rather, it might even exacerbate the unfair distribution of health resources.
Many African countries have realized this fact early on, continuously innovating in the area of medical logistics and cold chain through the use of solar-powered fridges, drones and helicopters to store and transport vaccines. They have also rapidly expanded data tracking and analysis to guide new public health policies. Others have leveraged their existing immunization infrastructure and experiences from Ebola, wild polio and yellow fever outbreaks to counter COVID-19 and possibly future infectious diseases. The creation of the African Vaccine Acquisition Trust in August 2020 also demonstrates increased self-ownership by Africans to accelerate vaccine acquisition and deployment to Africa.
Still, China can play a larger role in supporting the African continent to improve its public health infrastructure and raise vaccination rates. China has long attached importance to cooperating with Africa in the field of health and medicine. Through investing in basic infrastructure, constructing hospitals and medical care facilities, training medical workers, sharing infectious disease control expertise and experience, China has helped African countries strengthen their primary healthcare system and raise overall health and well-being. As such, during the pandemic outbreak, China followed this familiar act of immediately providing African countries with large amounts of material resources, such as COVID-19 nucleic acid test kits, personal protective equipment and medical equipment, as well as sending medical teams to provide guidance and expertise.
With cold chain transport and storage, Chinese companies actively partnered with African airlines early on to help develop cold chain systems, enabling vaccines to be brought across the African continent. Last November, in cooperation with Cainiao, the logistics arm of China's Alibaba Group, an Ethiopian Airlines' freighter made its maiden journey from Shenzhen to Addis Ababa via Dubai, marking the start of the first regular China-Africa medical cold chain flight route.
At the upcoming Forum on China and Africa Cooperation Summit, expected to be held at the end of the year in Dakar, COVID-19 vaccine equity will no doubt be a key focus point. At the same time, the summit will provide the best platform for Chinese and African leaders to discuss how to deepen collaboration in public health infrastructure.
Hopefully, it will produce action plans to continue to support sending Chinese medical and public health experts to Africa, sharing practical policy advice and technical assistance, encouraging Chinese companies to help enhance African countries' logistics, cold chain, data tracking and analysis, etc. Not only will this help African countries raise their low vaccination rates, more importantly, it will help them become more resilient to future outbreaks of infectious diseases.
If the world does not learn its lesson from this pandemic and continues limiting its support to countries and regions with weaker public health infrastructures, the next pandemic may undo all the progress made thus far.
Andre Shen, Founder and CEO of Bridge Consulting
Andre has been working in the social good sector in China for over a decade, building strategic partnerships with the government, multilateral organizations, NGOs and foundations, as well as digital influencers in promoting global health and development. In early 2016, he founded Bridge Consulting, an independent, mission-driven, issue-based strategy and communications consulting firm which helps clients achieve their long-term goals in China while advancing the public good through communications and advocacy.
Dr. Lucy Chen, Global Health Advisor at the National School of Development of Peking University
Lucy led the establishment of the Institute for Global Health (IGH) at the Peking University and developed its capacity and reputation in China-African development policy research from 2007 to 2017. During her 14 years of research career, she has been working with partners inside and outside of China acquiring valuable insights to support China's health sector 'SMART' investments in African countries as well as to support the Belt and Road Initiative.